Reunion is an ideal destination for hiking enthusiasts. The island's 1000 km of waymarked trails are perfect for exploring its mountainous peaks, deep ravines, spectacular waterfalls and even its cultural sites. There are options whatever your level, whether you're an experienced hiker, travelling as a family, or simply a novice. Just make sure you're well prepared: be properly equipped and (double) check the state of paths before setting out, especially if there's been rain. Here are five unforgettable hikes that are among the finest in Reunion … and the Indian Ocean.
1. Piton de la Fournaise
This classic day hike is an opportunity to discover Reunion's active volcano. It starts at Pas de Bellecombe, a viewpoint reached after crossing the barren lunar landscape of Plaine des Sables. After descending into the outer crater known as the Enclos, which takes about 15 minutes, head to nearby Formica Léo, a small crater cone that looks like an anthill seen from above. After another thirty minutes the path starts heading up the side of Dolomieu Crater, which rises to an altitude of more than 2500 metres. Allow 5 hours there and back. Note that access to the Enclos is forbidden during eruptions, but there are plenty of other hikes nearby that can be done instead (e.g. Piton de Bert, Nez Coupé de Sainte-Rose, etc.).
2. Piton des Neiges (from Cilaos)
The highest point of Reunion – more than 3000 metres high – can be reached via several different paths, of which the shortest is Le Bloc, in Cilaos. However you should definitely be physically fit for this one because there's a net altitude gain of 1700m! Die-hard hikers can make the round trip in about 8 hours, but it's usually trekked over two days, with most walkers spending the night at the Piton des Neiges gîte, before rising very early to finish the climb and admire daybreak from the summit. The return is downhill by the same path. Piton des Neiges can also be reached by other trails, such as from Plaine des Cafres via Coteau Keverguen, or from Hell-Bourg in the cirque of Salazie via Cap Anglais.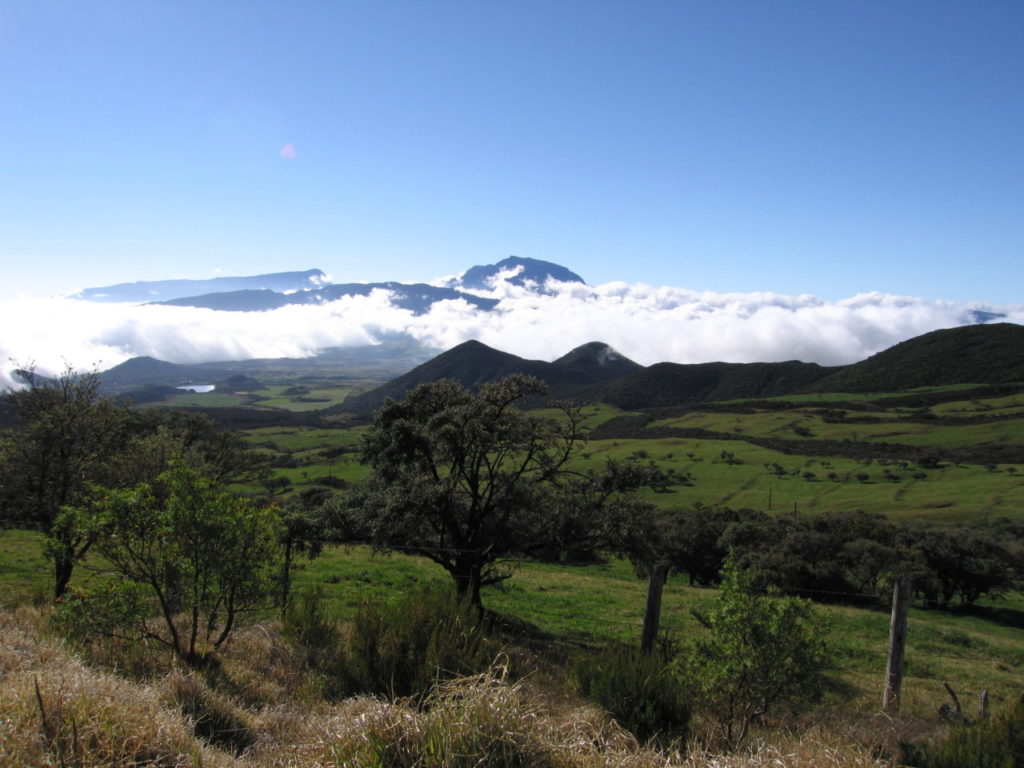 3. La Nouvelle, Mafate, by Col des Boeufs
This hike is one of the easiest options to explore Reunion's only cirque (natural amphitheatre) without roads. The hamlet of La Nouvelle, Mafate's largest settlement, is also known for being readily accessible. The entrance to Mafate via the mountain pass of Col des Bœufs is one of the island's most well-known and popular hikes. The trail starts a short distance uphill from the supervised car park of Col des Boeufs. After a steep descent you reach Plaine des Tamarins woods, which have an ethereal quality about them if there happens to be mist. The round trip can be hiked in about 5 hours, but many use La Nouvelle as the starting point to explore other hamlets in Mafate – such as Marla or Roche Plate – over the course of several days.
4. Grand Bassin
Most hikers take the short but steep trail that winds down from the Bois-Court viewpoint to reach the miniature cirque of Grand Bassin, which is sometimes nicknamed 'mini Mafate'. The path has several very high steps, as well as footbridges and ladders. Once you've arrived at Grand Bassin you can continue further to the Voile de la Mariée waterfall (not to be confused with the waterfall of the same name in Salazie), where you can swim in the natural pool before starting the hike back up. The round trip takes less than 5 hours, but many hikers choose to spend the night in one of the hamlet's charming gîtes.
5. Grand Bénare
At 2898 metres Grand Bénare is Reunion's third highest peak, and is locally well-known for affording one of the best viewpoints over Mafate and Cilaos. It can be reached by hiking from Le Maïdo, and it's possible to do a loop by first walking along Grand Bord, a ridge-top path with fabulous views over the cirque of Mafate and the hamlets of Roche Plate, La Nouvelle and Marla, before reaching Grand Bénare, which is instantly recognisable thanks to its large white cross. The return trip could then take in La Glacière, a rock chamber used an ice reserve during the period of slavery. Many hikes start or finish at Le Maïdo and several descend into the cirque of Mafate, which is visible from the viewpoint.
To discover unforgettable Reunion Island, take a look at our range of sightseeing tours.