Reunion is a fascinating volcanic island that inspires both awe and wonder. It combines an easy-going lifestyle with intense natural events, the highlight of which are its frequent (but safe!) volcanic eruptions. In this article we're going to take a look at Reunion's two emblematic volcanoes, and explain their origins and originalities. One of them actually recently finished an eruption, and it's a timely reminder of the raw energy this particular volcano hides beneath its rugged beauty.
1/ Reunion Island: a history of volcanoes
Quick history lesson: Reunion is a volcanic island formed 2 to 3 million years ago. Its visible part represents only a small percentage (about 3 %) of the seamount that forms the island and whose base rises 7,000 metres off the sea floor with a diameter of 120 kilometres. Reunion is one of the planet's tallest volcanic massifs, and actually consists of two massifs: one formed by an extinct volcano, Piton des Neiges, and another, more recent, on the pinnacle of which is the active volcano Piton de la Fournaise.

2/ Piton des Neiges: the crowning glory
With an elevation of 3,070.5 metres above sea level Piton des Neiges is the not only the highest point of Reunion Island but also of the whole Indian Ocean.
It is located in the island's centre, south of the cirque of Salazie, north of the cirque of Cilaos, and south-east of the cirque of Mafate. In short it's where the island's three cirques meet! Despite its name ('Snow Peak') and the cold temperatures found at high altitude, Piton des Neiges is not permanently capped with snow. Snowfalls there are extremely rare, brief, and are often obscured by bad weather. It is actually quite exceptional to see snow-covered summits in Reunion, but apparently an episode of snow in 1735 gave rise to its current name.
Like many of the world's mountains, Piton des Neiges is an extinct volcano. Its last eruption took place in -10 000 BCE.  But even if an 'extinct' volcano can wake up at any time (such as Eyjafjoll in Iceland after 190 years) there's no need to be afraid. According to the experts, magma from a new eruption would take a year to reach the surface, so we would have plenty of time to take all the necessary safety measures! Volcanoes are considered to have a lifespan of between 500,000 and 1 million years; tens, hundreds or even thousands of years can separate eruptions.
Piton des Neiges is a must-see on Reunion, and hikers appreciate the breathtaking views over the whole island from its peak.

3/ Piton de la Fournaise: a lunar landscape
Piton de la Fournaise on the other hand, takes its name from its furnace-like heat as it erupts frequently, and is actually one of the world's most active volcanoes! This shield volcano has an elevation of 2,632 metres, and is known for its effusive eruptions. Effusive volcanoes are not explosive, rather a steady flow of liquid lava streams out of them onto the ground.
Piton de la Fournaise in its current form only dates back about 4,700 years, but it is actually over 530,000 years old.
Today it is the island's most visited attraction, and it's easy to understand why: as soon as you approach Plaine des Sables the landscape changes completely to become moonlike and almost surreal. The dry growth of the island's upper highlands suddenly gives way to dark glassy scoria, and there is almost no vegetation nor signs of life. It's like something out of a sci-fi movie!
A large number of walks are possible in and around the volcano, such as the hike up Dolomieu crater from Pas de Bellecombe (roughly a 5-hour round trip). Once at the top you will have a splendid view into the volcano's largest crater (weather permitting!)
To find out more about this force of nature, you can also visit the nearby Cité du Volcan at Bourg Murat. This insightful and modern volcano museum explains all about our 'young' volcano and its history, and also describes some of the main eruptions that have taken place in recent years.
4/ Recent major eruption of Piton de la Fournaise:
April 2007
On 30 March 2007 a major eruption began, and lava started flowing from the south-east slopes of La Fournaise. Not far from the eruption site the inhabitants of Le Tremblet feared not only that a lava flow would destroy their village, as was the case in 1986, but also that acid rain and fires would destroy crops and vegetation. The whole of Reunion was affected by air pollution as well as falling 'Pele's hair' (thin strands of volcanic glass formed from liquid lava).
At the north of Pointe du Tremblet, the eruption created a 'beach' known as the Plage du Tremblet. Incidentally, this makes Reunion the only French department to see its surface area increase!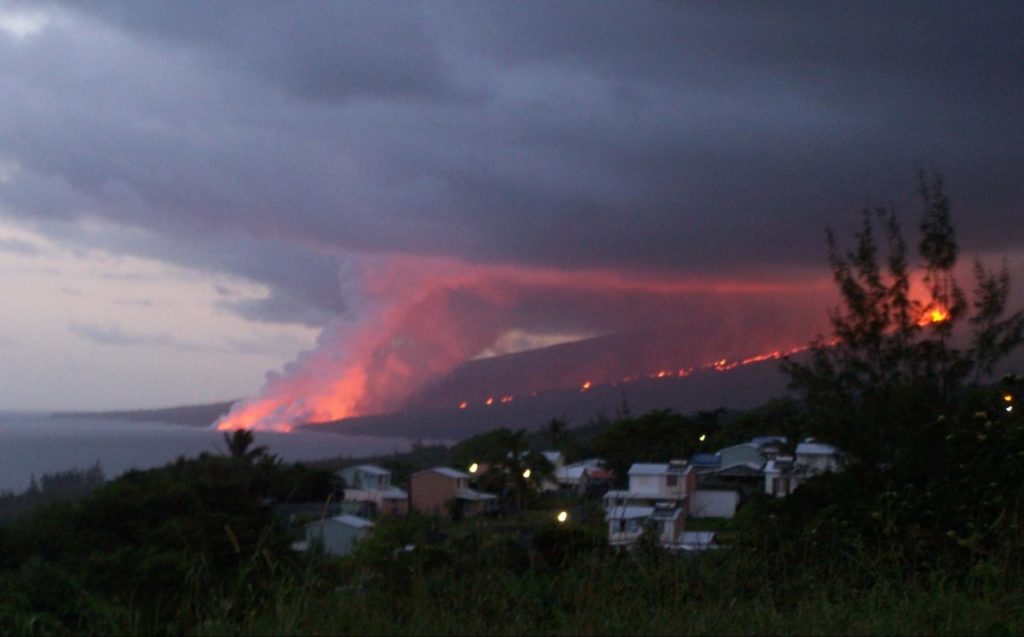 August 2004
This particular eruption did not seem very intense but its lava flows were fluid enough to reach the volcano's steep slopes, where they accelerated and ran down into the ocean. From 31 August onwards a number of less common features formed, such as spatter cones that projected lava and blasts of steam.
March 1998
This eruption was the longest ever recorded on Reunion, and lasted 196 days without interruption.
1977
 A flow of lava burnt everything in its path, but miraculously surrounded – without entering and destroying – the church of Piton Sainte-Rose. Now known as Église Notre Dame des Laves (Our Lady of the Lava), the solidified lava flow encircling the church can still be seen today.

April 1961
This eruption is known for having been phreatic, in other words magma reached the ocean and caused violent explosions that ejected molten rock that cooled into solid fragments before falling down ('cauliflower' lava bombs).
---
So on the one hand you have a young, effusive, and unpredictable volcano. And on the other hand you have a majestic but extinct volcano that dominates the Indian Ocean. They couldn't be more different, but one thing links them: their breathtaking beauty.
Has our article made you want to experience them for yourself? We organise trips to Piton de la Fournaise. Because reading about it is one thing, but seeing it with your own eyes is even better!